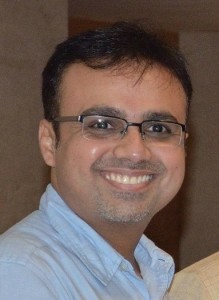 I feel connected to you as you are reading this page.
I am Dr. Sudeep Shroff, the creator of this site. By profession, I am a psychiatrist. Since 2004, I offer private consultation services for various emotional and behavioral issues. I have, as my clients, people of all age groups from children to old age. I owe to them for my learning.
I belong to Surat city, Gujarat, India. You can have a look at my workplace by clicking here.
Helping people realize their true potential and guiding them in manifesting their desires is my mission of life. I explore various schools of psychotherapy, scientific disciplines and philosophies of life to derive an integrated way of living. I believe that everyone can live a resourceful lfe every moment of his existence. What is required is:
Flexibility
Commitment to grow
Readiness to learn
Open mind to consider new ideas
I am an experiential person, so I do not buy a concept just because it logically makes sense. I create my own experiences before integrating any idea into my belief systems.
I am a committed father and a husband. In my priorites, family stands first!
I consider my son as 'the best teacher' for me! He has helped me in many ways finding my true self. I shall be adding content related to our interactions also in these web pages.
My life is getting aligned with following values and I enjoy every moment when I am fully congruent with them.
Love
Courage
Flexibility
Creative expression
Curiosity
Enthusiasm
Responsibility and accountability
Freedom
Abundance
Connection with nature
Compassion
I intend to create a place in WWW, where people can find answers to their questions about life in an easy to understand language & format. I consider myself as a facilitator in your journey called life. By sharing my insights and experiences, I hope that you may find your directions and wisdom that you can share, if you want, through your comments and feedbacks.
I do not ask you to follow blindly what I say here in this site. Like me, I encourage you to create experiences for your life about these concepts and ideas. If you find that it is helping you, then work on integrating them into your belief system.
I am hopeful that the content of these pages shall make you realize that you already have all your resources needed for living an empowered life. You shall learn ways of accessing them, whenever you want, to make your moments resourceful. This is called, in my opinion, a Resourceful Life.
With love and care,
Dr. Sudeep Shroff